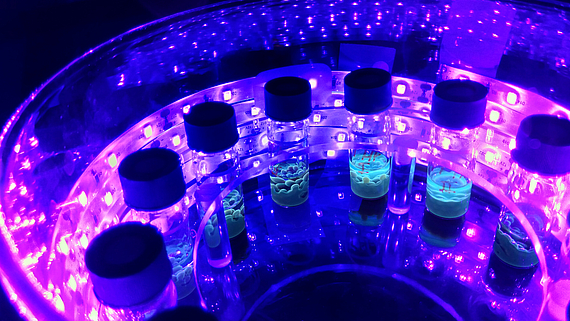 Our research focus is the optimisation of enzymatic conversions by substrate-, biocatalyst-, medium-, and process engineering. Therefore, alternative reaction routes, especially meant for substrate engineering, are explored to reduce the environmental impact compared to established biotransformations. What medium engineering concerns, the evaluation of e.g. the use of two-liquid-phase systems, neat organic solvents or solvent-free systems, and deep eutectic solvents (DESs) is one of our targets to enhance the productivity of the biocatalytic reactions.
Furthermore, to meet the needs of practical- and economical biotransformations, biocatalyst engineering, e.g. enzyme immobilization and modification, are explored to establish robust biocatalysts in an industrially relevant environment i.e. high substrate and product loadings, and the use of organic solvents. The optimized reaction conditions, including all above given aspects, will be combined with process engineering, leading to the development of improved reactor concepts running in batch-, fed-batch-, or in continuous mode.
Practical and sustainable: Our research topics
Our research is hands-on: to meet the requirements of practical and economical biotransformations, we explore biocatalyst engineering. For example, we look at the immobilisation and modification of enzymes to establish robust biocatalysts in an industrially relevant environment - with high substrate and product loadings and the use of organic solvents. The optimised reaction conditions, including all the aspects mentioned, are combined with process engineering. Thus, we develop improved reactor concepts that are operated in batch, fed-batch or continuous mode.

Learn more about our research
Biocatalysis in non-conventional media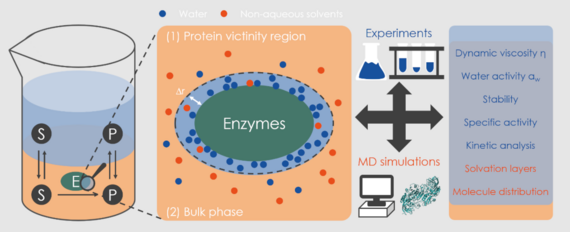 Chemical industry is currently facing the strong transition from the classic manufacture of petroleum-based chemicals to the sustainable synthesis of bio-based products. This requires holistic consideration of all aspects, for example, biogenic starting materials, efficient biocatalysts, environmentally benign processing, and tailored "green" solvents.
In particular, the solvent design and choice are fundamental needs since many solvents are reactive media and provide synergistic effects along a chemical reaction (e.g., activating/deactivating a catalyst). Biocatalysis in non-conventional media (BNCM) has become the straightforward solution to the unfavorable aspects of using water as solvent and thus the new trend toward sustainable chemistry. In this context, our research group focus on the application of alternative reaction media covering two-liquid-phase systems, use of organic solvents, neat substrates (i.e. solvent free systems), and deep eutectic solvents (DESs) to meet economic and environmental constraints of biotechnological processes. The selected fundamental and application-oriented studies include rational analysis of the effects of non-conventional media on enzymes' catalytic performance by connecting experimental data and molecular dynamics (MD) simulations followed by the knowledge-oriented solvent engineering for efficient biocatalytic reactions.
Multistep biocatalysis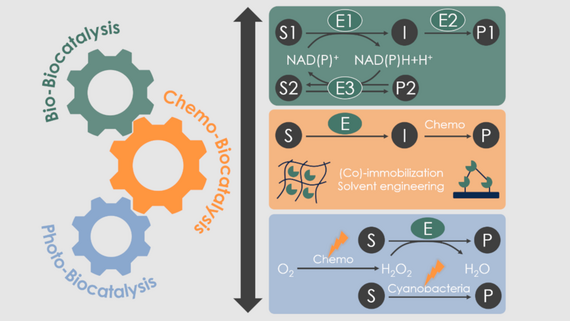 Current processes for the production of chemicals require material-, energy-, time- and space intensive isolation and purification of reaction intermediates, which cause significant waste generation. Hence, cleaner processes must be established by integrating production steps in compliance with sustainability criteria. In this context, multistep (bio)catalysis is an attractive option for green organic synthesis as it streamlines the synthetic routes by avoiding (de)protection steps, eliminating intermediate-related issues, and shifting reaction equilibria. Enzymes are bale to team-up with enzymes, chemo-catalysts (e.g., metal-, and organo-catalysts), and photocatalysts or light to form bio-bio catalytic, chemo-bio catalytic, and photo-bio catalytic systems, respectively. Our team aims at the design and technical implementation of multistep enzymatic cascades covering above listed combinations: bio-bio, chemo-bio, and photo-bio.
Hybrid biomaterials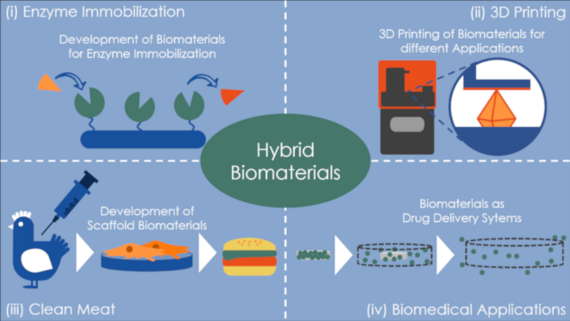 Biocatalysis is an established chemical synthesis technology that has by no means been restricted to research laboratories. The use of enzymes for organic synthesis has evolved greatly from early development to proof-of-concept – from small batch production to industrial scale. Different enzyme immobilization strategies contributed to this success story. Hydrogels are three-dimensionally crosslinked polymer networks with versatile properties that can range from biocompatibility and swellability to antibacterial properties and adjustability of mechanical properties. Therefore, hydrogels can be used in a wide variety of biotechnological applications. Our research group exploits this diversity for a wide spectrum of applications, such as (i) enzyme immobilization, (ii) 3D printing, (iii) "clean meat", and other (iv) biomedical usages such as drug delivery systems. Particular attention is paid to synthesis and characterization. With the help of structure-property relationships, hydrogels can be adjusted to their specific applications. For the "clean meat" area, for example, hydrogels with high surface areas can be produced and used as scaffolds for cell cultivation.
Bioprocess intensification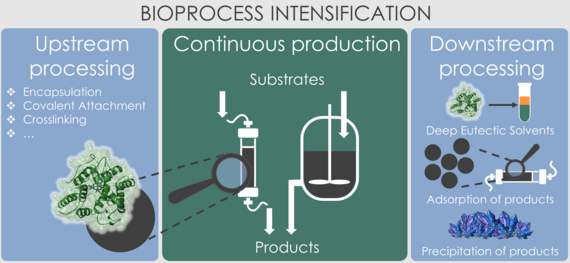 To drive the cost efficiency and therefore the success of biocatalyzed reactions, bioprocesses must be intensified in a holistic manner with a special attention to medium- and process engineering. From the medium engineering viewpoint, solvents are critical in the raw materials (substrate) isolation and conditioning, reaction steps (upstreaming), and product isolation/purification (downstreaming). Process engineering studies in biocatalytic applications is nowadays dominated by continuous operations specifically by flow biocatalysis.
Head of the group
Prof. Dr.-Ing. Selin Kara
Address
Callinstraße 3-9
30167 Hannover
Prof. Dr.-Ing. Selin Kara